Every day I tell myself I have to start blogging again and every night I realize I've avoided it again. Not because I don't want to do it, but because it means addressing my husband's death. It's five months now since Brian died and I still have days when I just fold into a heap and sleep and cry the day away. But mostly, I'm managing the normal things during the days, managing to stay on top of things.  I know this grief thing is something I have to work through, but I didn't realize it turns your brain to mush. I find myself having to write notes to remember things I have to do. Should see my office and kitchen. LOL I have yellow Post-It notes all over the place, but hey, it works.
I've even started writing again. My daily word counts are down compared to what they used to be, but it's a start. I polished up a manuscript I'd finished before Brian became sick and sent it off to a couple of publishers. Now I just wait to see if they are interested. And in the meantime I've started working on another paranormal romance. Paranormal suits me at the moment because I can allow my emotions free reign in the darker paranormal moments of the story. Lighthearted and comedic is beyond me right now.
And in among all this, our daughter presented me with two lovely new grandsons, twins Xavier and Caleb. It was bittersweet because their granddad wasn't here to see them, but my daughter swears her dad was with her during the birth.
Meet my new grandsons. Aren't they delightful?
A proud big brother - all three of my grandchildren.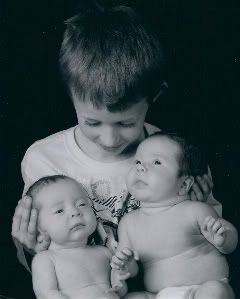 That's me for the night. It's getting late and I need to head to bed, but I promise to come back tomorrow with another little bit of good news I didn't expect during this time.
'Night all