Friday, January 13th, 2012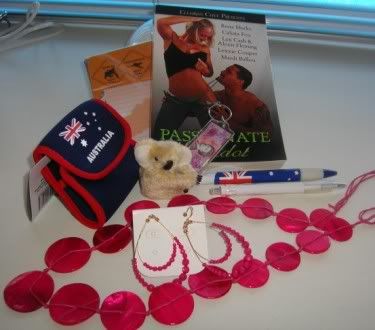 Through a comedy of errors, my latest contest didn't get up on my website, but there's still time to enter if you're interested. The contest will run until the end of January.
As you can see, it's a bit of this and that for this month's contest. A print copy of the Passionate Peridot anthology from Ellora's cave. An Aussie notebook and pens, Aussie coin purse and key ring, a little clip-on koala, and matching necklace and earrings made by Yours Truly.
To go in the draw, send me an email through the Contact page on my website. Don't forget to put NOVEMBER CONTEST in the comments section, along with your postal address. Because of this surgery I've just had, I won't be able to drive until the end of January. Because I won't be able to get to the post office, the winner won't be announced until early in February 2012.
Good luck everyone.
Winner of the September Contest
The winner of the garnet necklace is Julie Scharff.
Congratulations, Julie, and thank you all for playing.