Saturday, August 21st, 2010
My apologies I didn't blog as soon as I returned home from conference. I managed to pick up some type of bug while I was there and arrived back here coughing and spluttering all over the place.  After five days and about six boxes of tissues, I'm beginning to emerge into the real world again. Not great yet, but working on it.
On to the conference now. This year the Romance Writers' of Australia conference was held at the Crowne Plaza at Coogee Beach in Sydney. The view from our room was outstanding.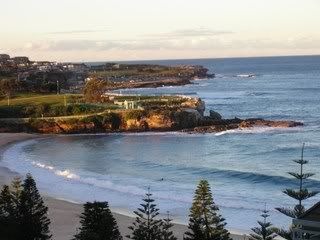 Thursday was set aside for a workshop for published authors, with a variety of speakers. Let me tell you, if you ever get the chance to go hear Wendy Harmer speak, do so. You won't be sorry. This lady is incredible.
I had the day off on Friday, so spent it with a friend before getting ready for the book signing. Not sooner was that finished then it was up to our room to get ready for the cocktail party. The Friday cocktail party is always themed, this year's being "Fantasy Island" which pretty much leaves it wide open as to the choice of costumes. My daughter, Kelly Ethan, and I decided to hit the scene with a little bit of steampunk whimsy, while out roommate, Bronwyn Stuart, went with Lara Croft. One thing I now know. I'm glad I didn't live in Victorian times. Those Victorian outfits are seriously heavy and hot!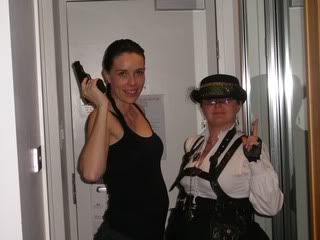 Saturday and Sunday were back-to-back workshops with the awards dinner on Saturday night. Before we knew it, it was all over and we were headed home. I thoroughly enjoyed spending time with my writer friends but it was nice to get home, even if I brought the dreaded flu bug home with me. Now I just need to throw off the last of it and get back to the writing.